Soil preparation for the production of sod
Use BeachTech for soil preparation in the production of sod. Before leveling and sowing, BeachTech mobile sifters remove all stones from the soil. Thanks to the various mesh sizes of the screening belts, BeachTech picks up small to medium-sized stones reliably. The sod thus becomes even smoother and can be lifted off without creating holes. At the same time, you prevent damage to your machines.
High area coverage
At a maximum area coverage of up to 30,000 m² per hour, BeachTech offers efficient solutions for soil preparation.
Optimum soil preparation
The stone-free, smooth surface is a guarantee for high-quality sod.
Be kind to your implements
Removing the stones reduces the wear on the blades of other implements.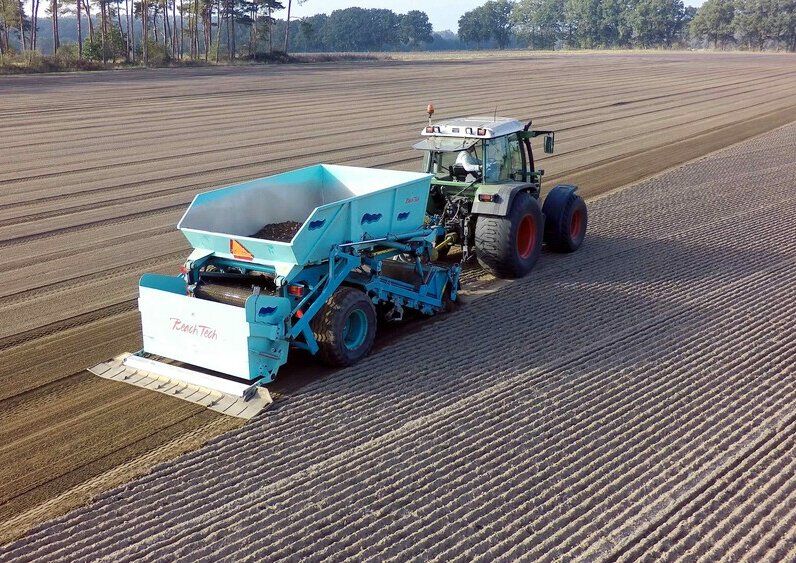 How BeachTech Mobile Sifters work
BeachTech mobile sifters pick up the soil using the pick up blade and guide the soil over a vibrating or rotating screen. The vibrations filter stones, weeds or contaminants through the screen. Each screen is available in various mesh sizes so that you can perfectly adapt it to your needs. Everything screened from the sand is conveyed into the waste container at the rear of the sand cleaner. The cleaned and loosened soil drops back through the screen to the ground.
BeachTech mobile sifters are notably low-maintenance, and even stones will not damage them in any way. If you use BeachTech to remove stones, you spare your blades and implements from unnecessary wear.
Request a free quote
Rely on BeachTech to prepare ground surfaces for sod cultivation! Contact our product experts now. We will be happy to answer your questions and send you a non-binding offer.
Please fill out the form and one of our experts will contact you.