Out on the beach
Kässbohrer Magazine (KM) has had a chat with Xavi Sala (XS), Group Leader of GBI GRUP, about the new BeachTech 5500. His operators were some of the very first to use the vehicle over a long period and were able to give us the following feedback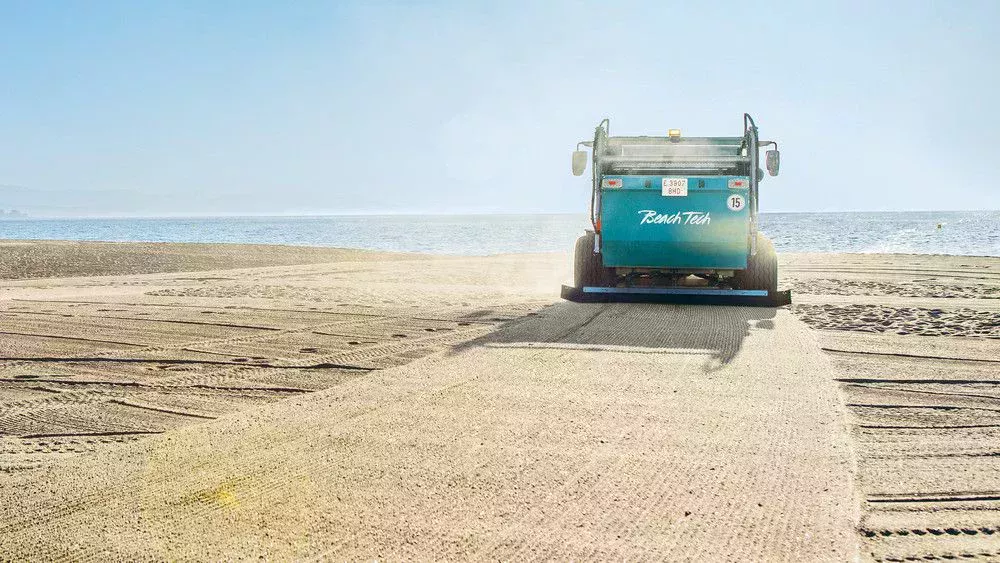 KM: Are there any special challenges at your location?
XS: We maintain many smaller beaches, some of which have narrow access points, a high number of footpaths, showers, sun loungers and so forth.
KM: What was the deciding factor for the decision to buy a BeachTech 5500?
XS: With a self-propelled beach cleaner, we can reach all beaches and bays of the community without any problems whatsoever. For narrow beach access points as well as smaller beaches and bays, maneuverability is an important factor. The BeachTech 5500 in particular is extremely nimble and allows for the tightest turning radii. However, excellent cleaning results and the finish were very important to us.
KM: What do you like best about the vehicle?
XS: We had previously been using the predecessor model, the Cherrington 5000, with which we were absolutely satisfied. However, in contrast, with its air-conditioned driver's cab, cameras and control console, the BeachTech 5500 truly offers incredible innovations with respect to safety and operating comfort and convenience. By designing this self-propelled beach cleaner, Kässbohrer has taken a spectacular jump forward. We are very happy with the new features of the BeachTech 5500!
KM: What do you value in your collabo­ration with Kässbohrer?
XS: The Spanish Kässbohrer dealership CASLI S.A. acts as a competent on-site contact partner for us. This made it possible for us to clarify any questions or resolve pending issues in a timely manner. We appreciate the new features and the vehicle's reliability. At the moment, only a little bit of maintenance is necessary, but this is easy to carry out. We are completely satisfied with the cleaning results.
KM: Do you receive feedback on the quality of your beach directly from your guests every now and then?
XS: Feedback from guests made its way back to us through public administration channels and is highly positive.
Our customers are ambassadors who speak for the BeachTech brand and take its good reputation out into the world. To ensure that our products are geared toward meeting the needs of customers and markets, now and in the future, we remain in contact with our customers. In Spanish Catalonia, the GBI GRUP cleans the beaches of Lloret de Mar, Platja d'Aro and Calonge. They purchased three BeachTech 5500 vehicles in 2019.