The new BeachTech 1000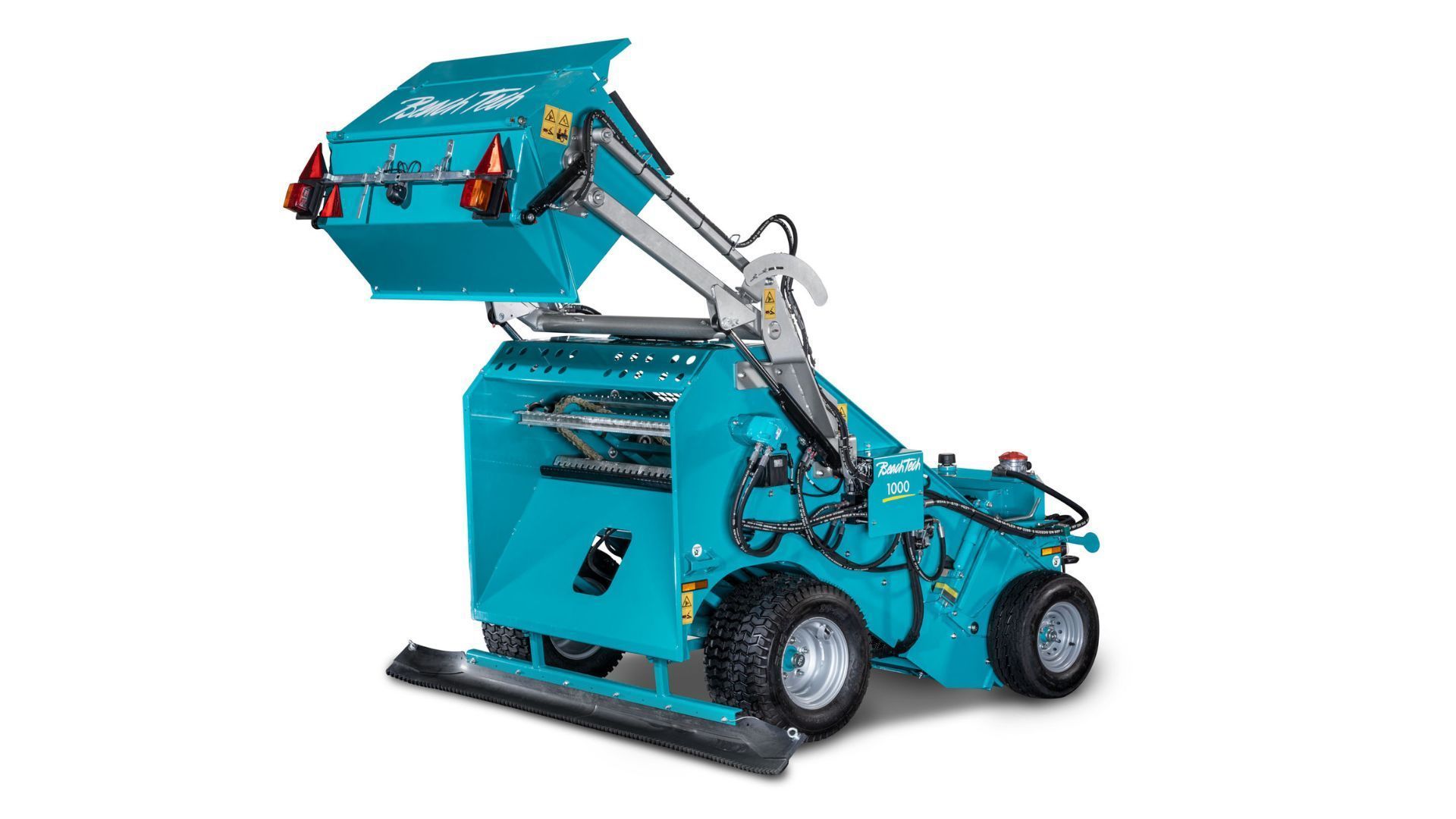 The new BeachTech 1000 is a towed sand cleaner for use on beaches, in riding halls and on plots of land used for agriculture. As with all BeachTech models, the BeachTech 1000 can be approved for road use. The model has a vehicle length of 3.40 meters and working width of 1.22 meters, so when coupled with a tractor of 30 metric HP or more it is compact and can be used even on smaller areas.
Tried-and-tested technology, impressive cleaning results
The BeachTech 1000 operates with permanently installed, vibrating screening sheet metal and a transport system unit. The pick up blade can be steplessly lowered and immersed into the sand down to a depth of 10 cm. The sand-waste mixture that is picked up is guided over the screening sheet metal by the transport system unit. Then trash, packaging, stones and other contamination are screened out and transported into the 400-liter waste container, while the cleaned sand falls back to the ground.
The screening sheet metal of the BeachTech 1000 is available in various mesh sizes, so the sand cleaner can be used for a wide variety of applications. Screening sheet metal with smaller mesh enables collection of smaller objects, such as cigarette filters, shards and bottle caps, while coarse-meshed screens also filter out larger stones and plastic containers.

Easy to attach, convenient to operate
The BeachTech 1000 can be attached to all tractors of 30 metric HP or more with a PTO shaft speed of 540 rpm and a 3-point hitch of categories 1 or 2. The sand cleaner is connected to the towing vehicle by a stack-on pump. The operator can use the terminal in the tractor cab to control all vehicle functions, such as waste container emptying and the vehicle's hydraulic system.
Use for cultivation
With the permanently installed screening unit, the BeachTech 1000 is particularly rugged and suitable for collecting stones on land used for agriculture with screenable soil. This means the sand cleaner can be used for preparing seedbeds, for example, for vegetable gardening and sod farming.
Removal of stones from the soil provides the advantage of being gentler on the harvesting machines that are used in the subsequent work steps. This increases the service life of the machines. At the same time, BeachTech screens out the remnants of prior crops and weed growth, so the cultivated crop plants do not have to compete for nutrients and the harvest yield is increased. In addition, the screening process loosens and aerates the soil.
Safety on riding areas
The BeachTech 1000 is also used in riding halls, on riding areas and on horse racetracks. Hazardous objects, such as horseshoes and nails, which can be under the sand surface, are an invisible danger. This makes the risk of injury for animals very high. With its screening technology, the BeachTech 1000 makes the riding area a safe place for both the horse and the rider.