BeachTech 5500
The self-propelled beach cleaner
The 3-wheel design allows for a 0° turning radius, making it perfect for narrow driveways or maneuvering around beach furniture.
The extra-large hopper has a loading volume of 1.5 m³ - this means less frequent unloading with subsequent time savings.
Thanks to its working width and the high capacity hopper, the beach cleaner covers a big area in a short time.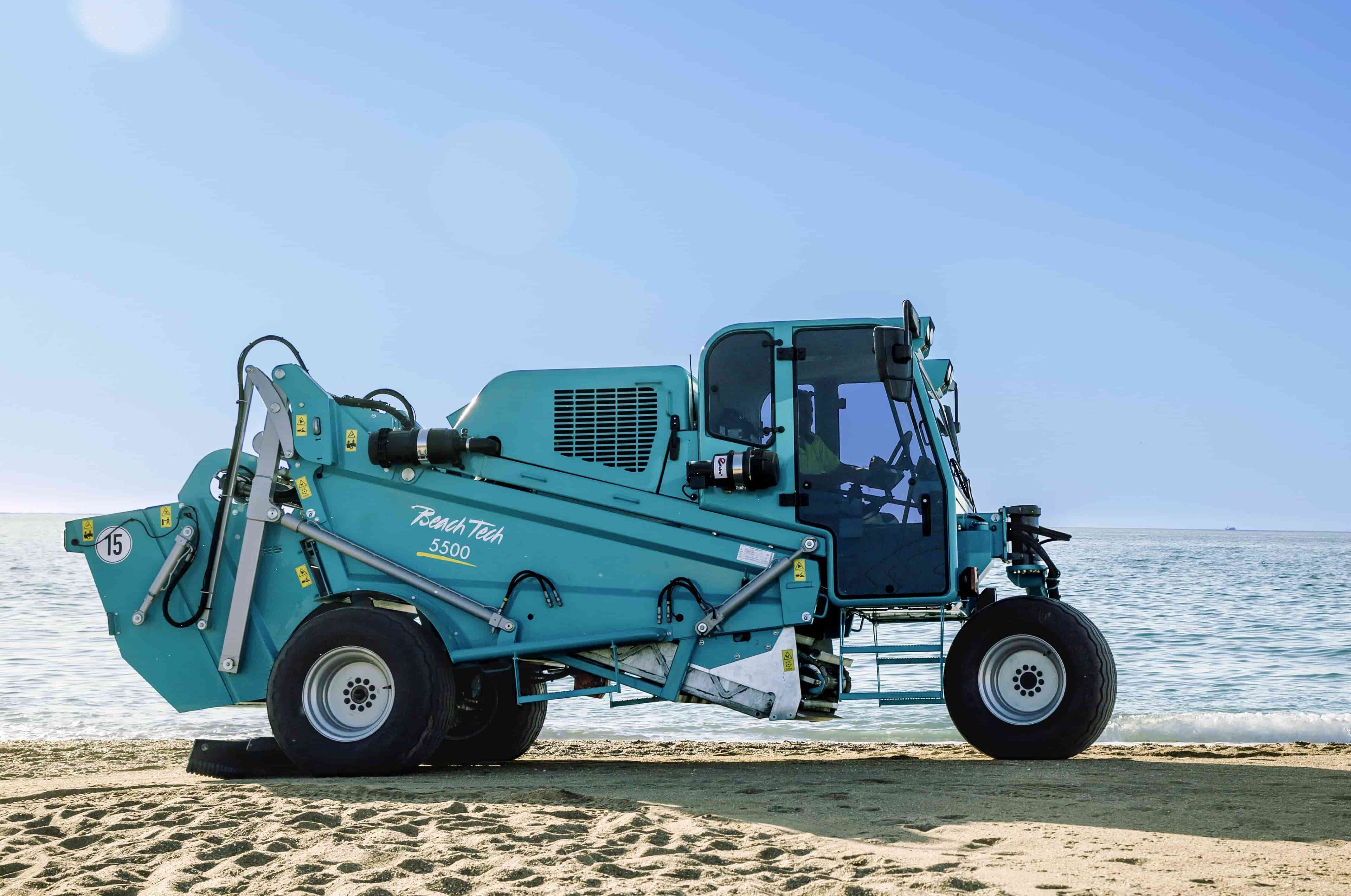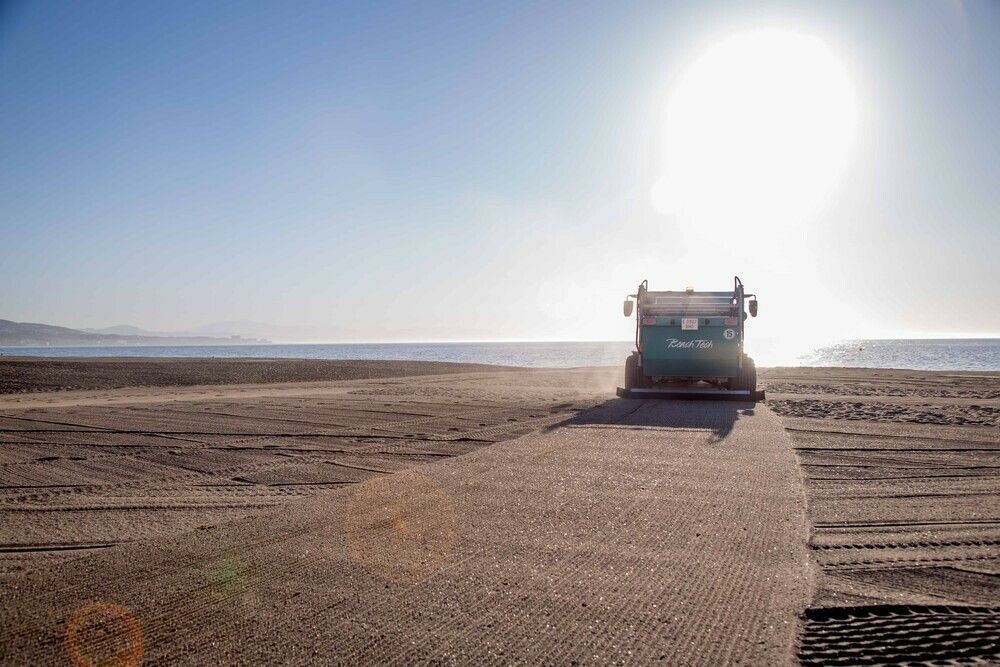 "

The

BeachTech

5500

is

extremely maneuverable and allows the tighetest of turns. the excellent cleaning result and Good finish are also essential to us.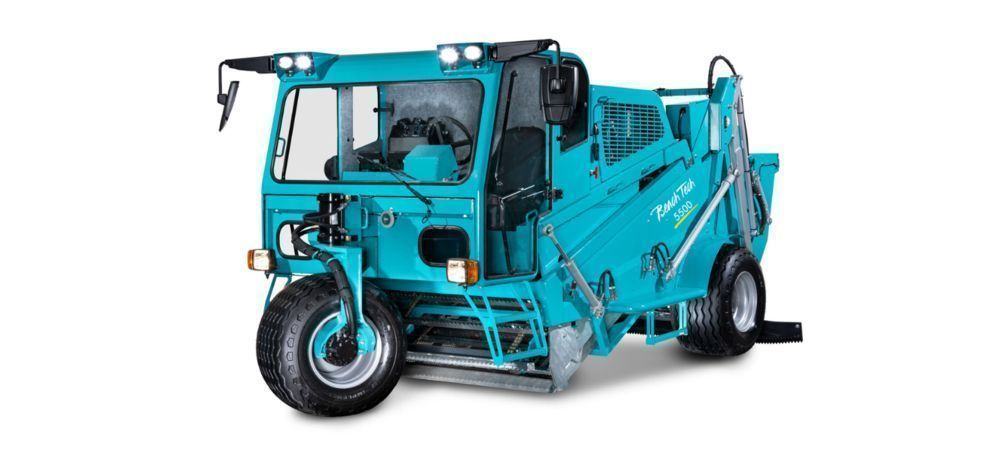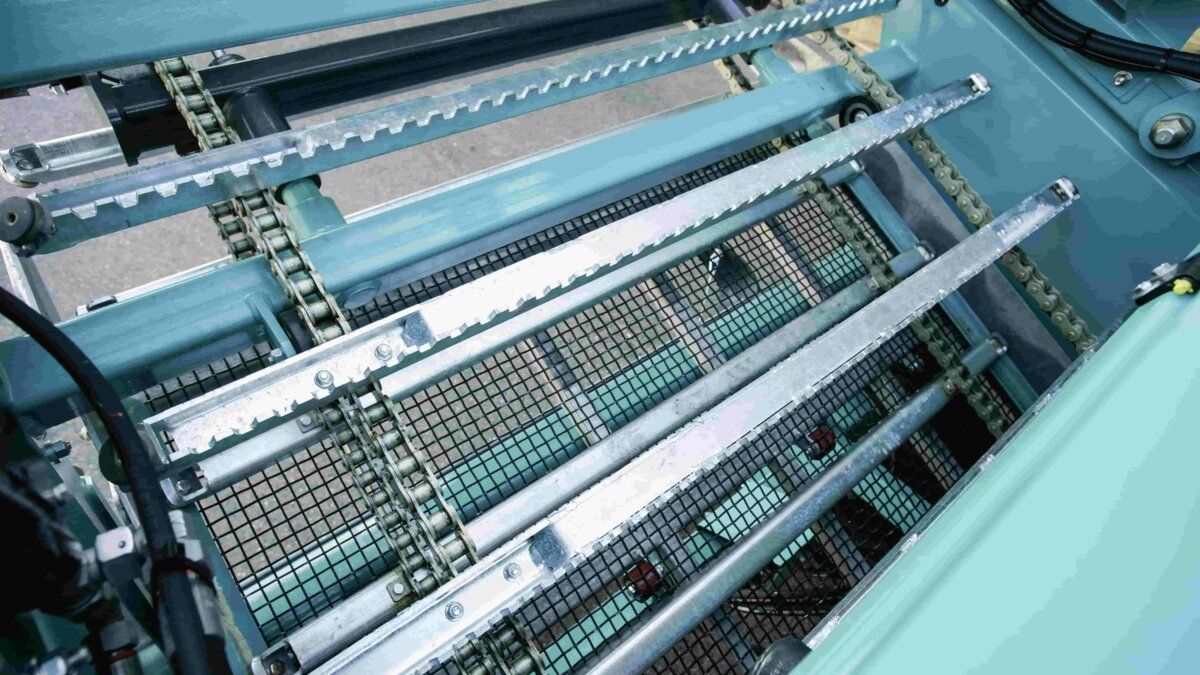 Low-maintenance screening unit
With only three bearings, hydrostatic direct drive, a galvanized screen bed and a robust transport system (with carbide-reinforced wear parts), the screen unit is extremely low-maintenance.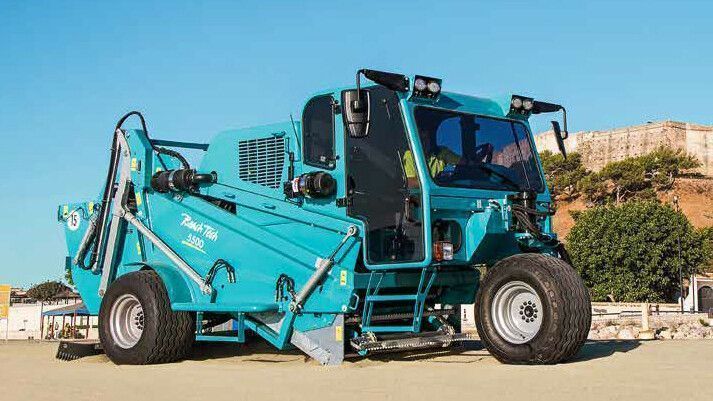 The 3-wheel design makes the beach cleaner particularly maneuverable and agile. This is a great advantage especially for narrow beach accesses, small beaches or bays. Due to the 0° turning radius, even smaller obstacles such as beach furniture, outdoor showers, etc. can be easily navigated around.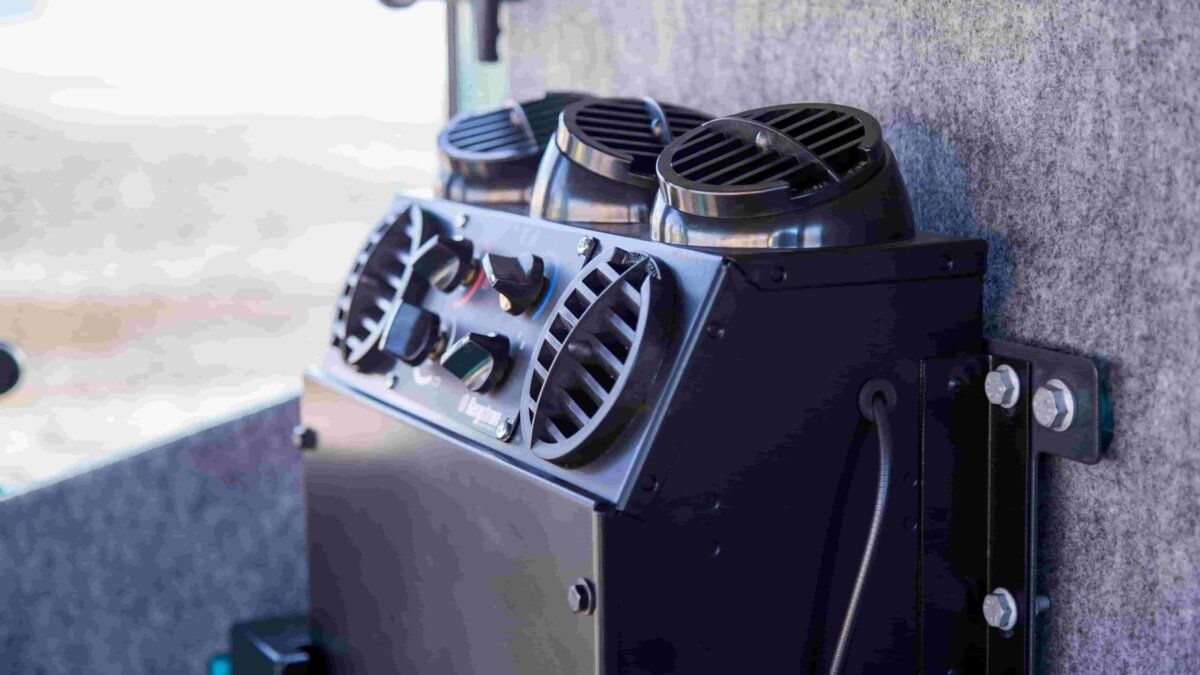 Air-conditioned drivers' cab
For comfortable work, even at the highest temperatures! The ROPS-certified cabin is also equipped with a high-quality seat, as well as an ergonomic control unit.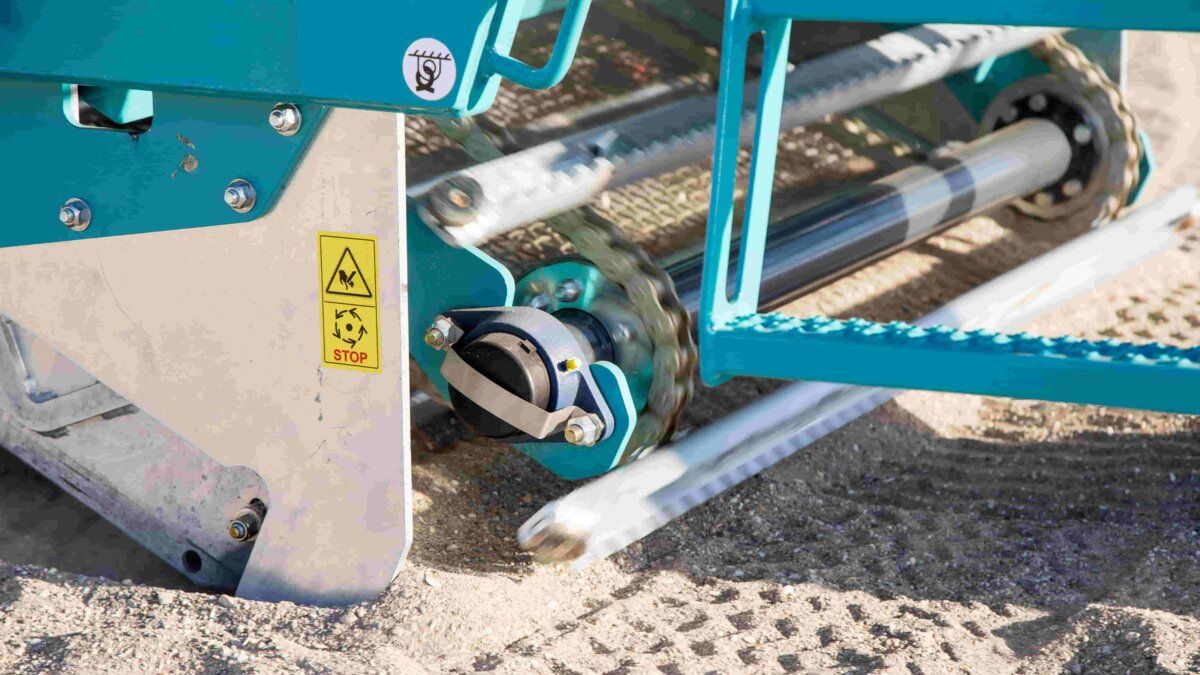 With a working width of 1,524 mm (5 ft) and the large loading volume, you can achieve large area performance with the BeachTech 5500. Even more cleaned beach in less time! The increased efficiency is noticeable: You gain time. You consume less fuel. And save a lot as a result.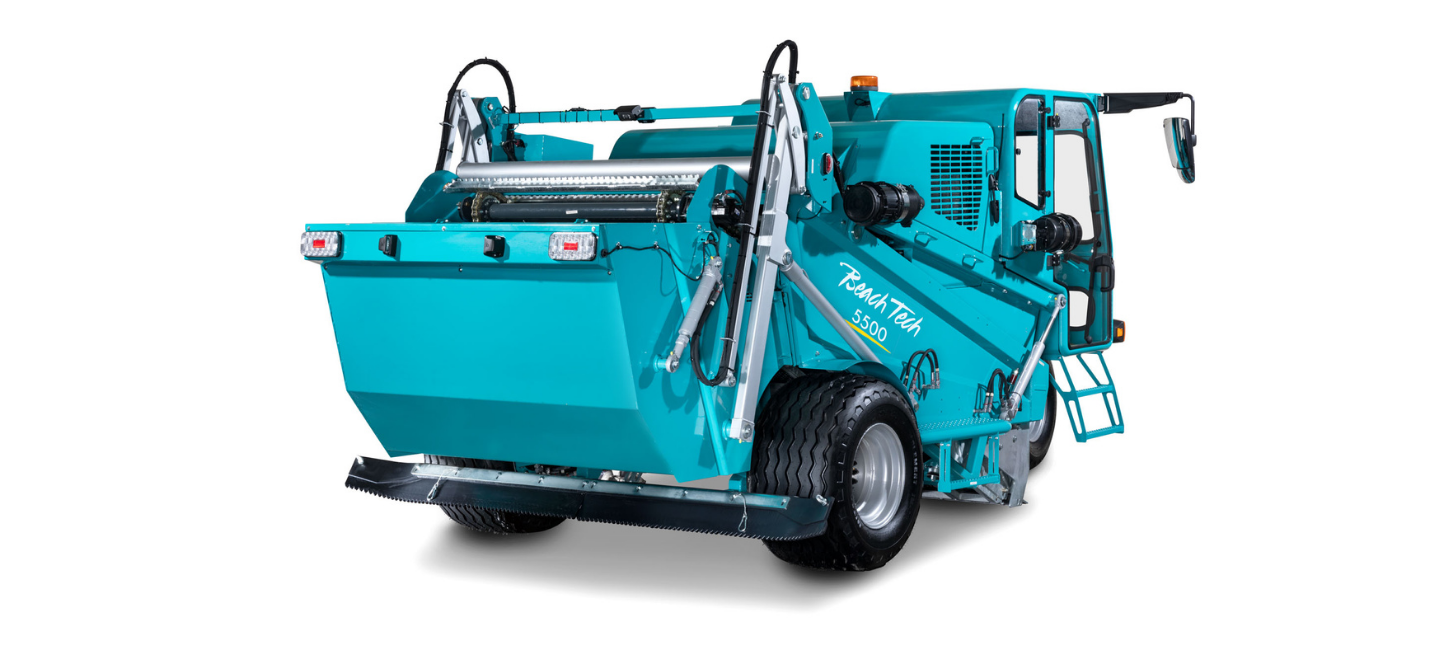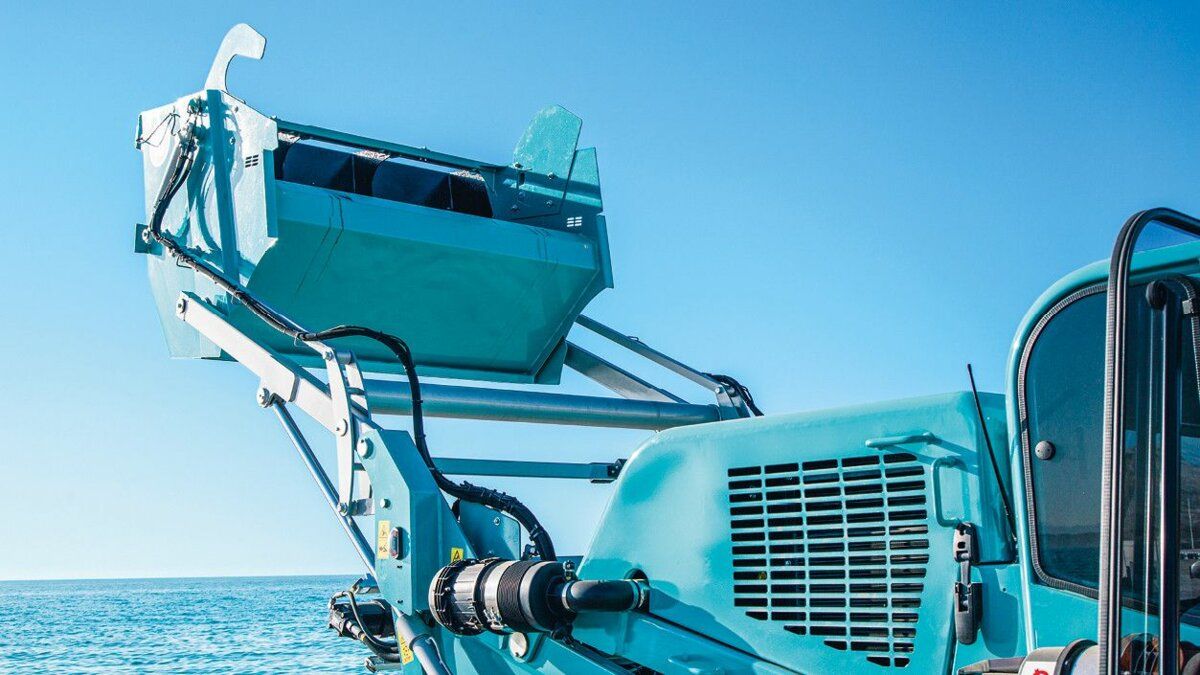 The compact collection hopper has a volume of 1.5 m³. Thanks to the large capacity, you don't have to stop as often to empty the hopper saving time and energy.

The dump height of the collection hopper ranges from 0 mm up to 2.60 meters. This gives you the option of pouring the material directly into a collecation area or onto a trailer and transporting it away.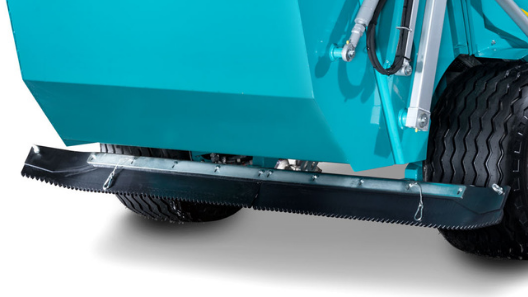 The finisher smoothes the sand surface and compresses it slightly. In doing so, it leaves behind the grooved pattern - the signature of a cleaned and inviting beach.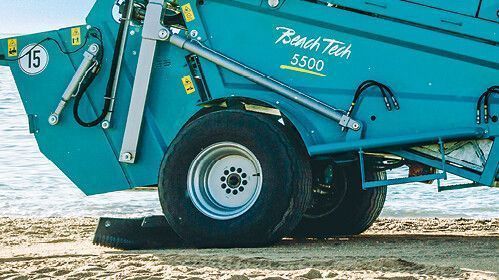 High Flotation tires for high payloads at low air pressure. The special tires provide the beach cleaner with the best possible traction on soft surfaces.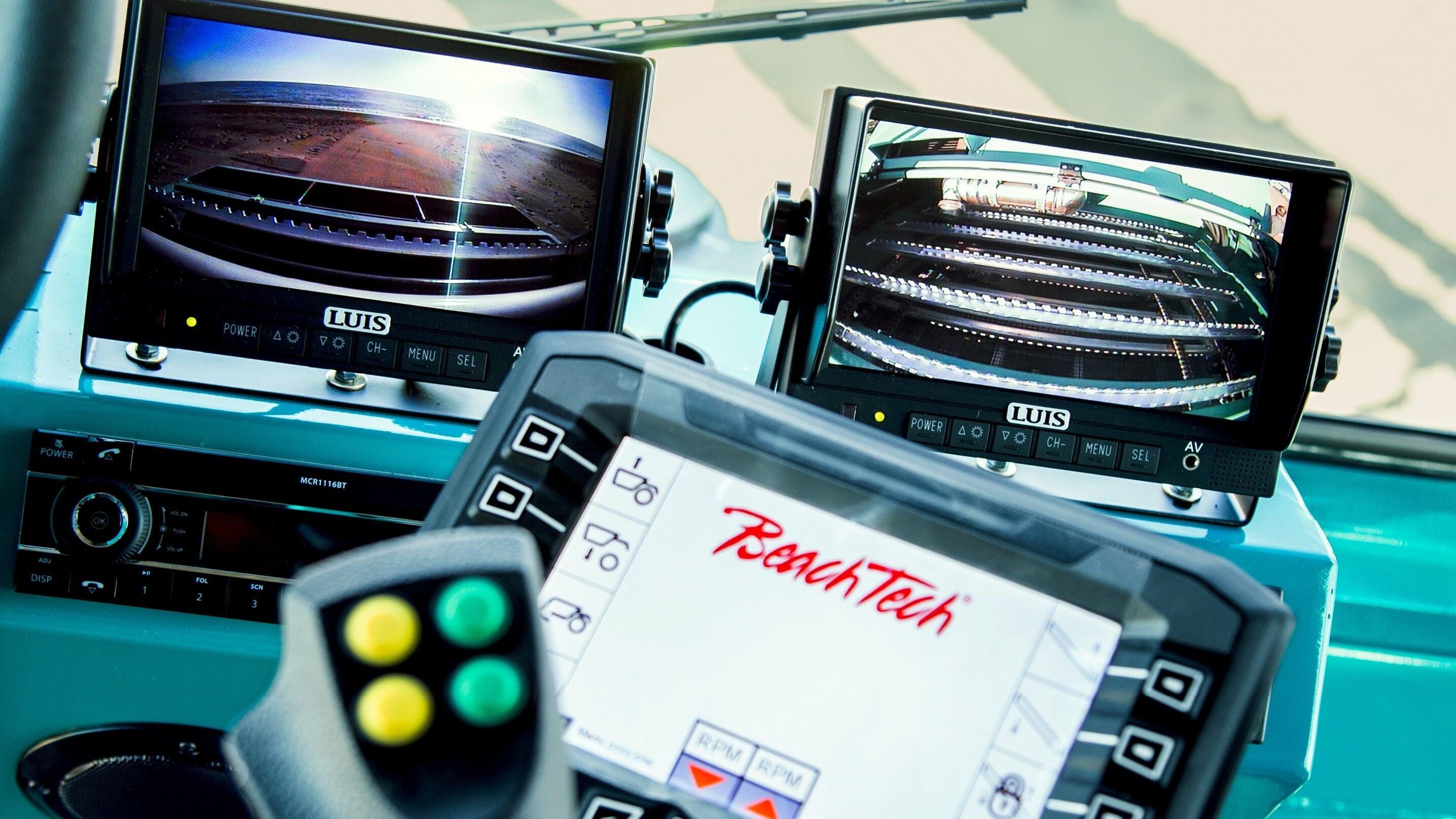 Operating terminal
All functions of the beach cleaner are controlled via the central operating terminal, e.g.:
Setting the working depth of the collection coulter
Opening / closing of the collection hopper
Monitoring of vehicle functions (oil level, temperature)
Camera system
With the BeachTech 5500 camera system, you always have an overview: In addition to a rear camera, you also have the sieve belt and your finish in view. Thanks to the sieve belt monitoring, you can adjust the working depth to the prevailing conditions at any time and thus optimize your cleaning result.
Joystick
Use the joystick to control various functions of the beach cleaner:
Driving direction forward / backward
Lifting / lowering the pick-up blade
Adjustment of the working depth
Control of the automatic working depth adjustment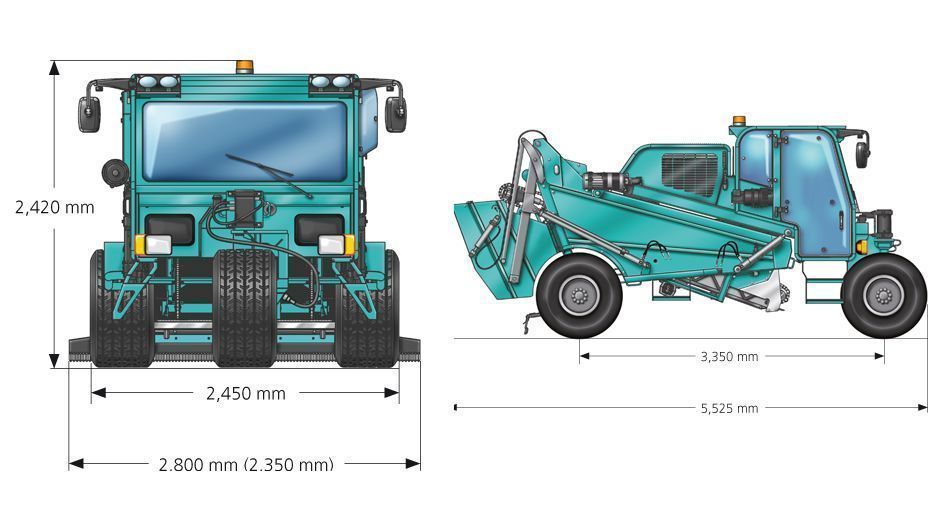 Technical Data
Dimensions
Overall length
5,525 mm
Width
2,450 mm
Height
2,420 mm
Working width
1,600 mm
Width (Road travel)
2,450 mm
Weight
Net weight
4,550 kg
Gross weight limit
5,600 kg
Performance
Max. area coverage
17,000 m²
Working depth up
15 cm
Hopper capacity
1.5 m³
Dump height
from 0 to 2,600 mm
Top speed
15 km/h
Engine
Type
Deutz, Turbodiesel
No. of cylinders
4
Power
55,0 kW (74 hp)
Torque
2,400 U/min
Displacement
2,925 m³
Emission standard
Available in: EU Stage V, EU Stage III b or EU Stage III a; Tier 4, Tier 4i
Dimensions
Overall length
18 ft 2 in
Width
9 ft 2 in
Height
7 ft 11 in
Working width
5 ft 3 in
Width (Road travel)
8 ft
Weight
Net weight
10,031 lbs
Gross weight limit
12,346 lbs
Performance
Max. area coverage
4.2 acres/h
Working depth up
6 in
Hopper capacity
2.0 cu yd
Dump height
0 – 8 ft 6 in
Top speed
9.3 mph
Engine
Type
Deutz, Turbodiesel
No. of cylinders
4
Power
55.0 kW (74 PS)
Torque
2,400 U/min
Displacement
3,826 cu yd
Emission standard
EU Stage III A; EPA Tier 4 i
beach cleaning
with beachtech
Rely on the BeachTech 5500 for professional beach cleaning!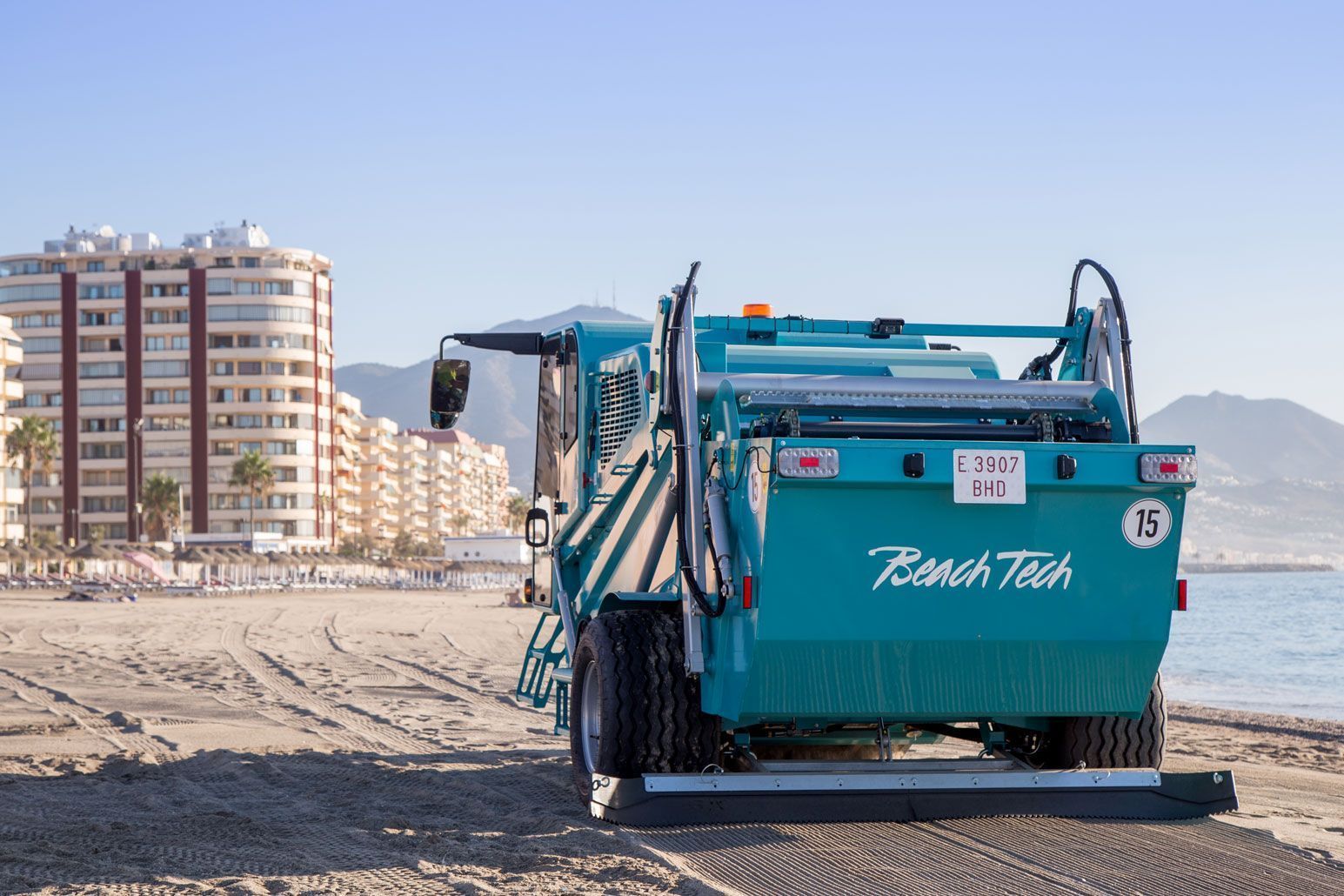 "Power screening" for perfect cleaning results
The BeachTech 5500 can continuously lower the pick-up blade into the sand to a depth of up to 15 cm. The sand is picked up and guided upwards via a galvanized loading belts. The cleaned sand falls back through the oscillating screen onto the ground, while the picked-up material moves into the collection hopper. In the process, even the smallest particles of litter, such as cigarette butts, bottle caps or broken glass to plastic bottles, cans or stones are reliably removed from the beach - making it a safe place for your guests.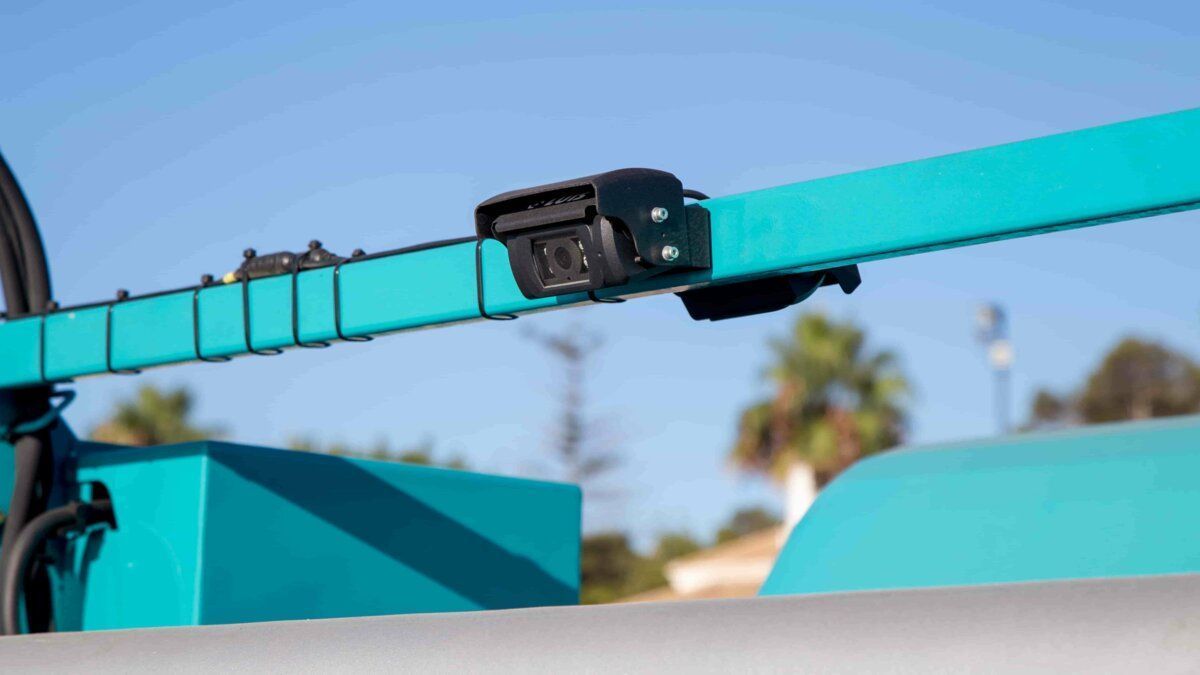 Cameras for monitoring the screening system, the collection hopper as well as rear view.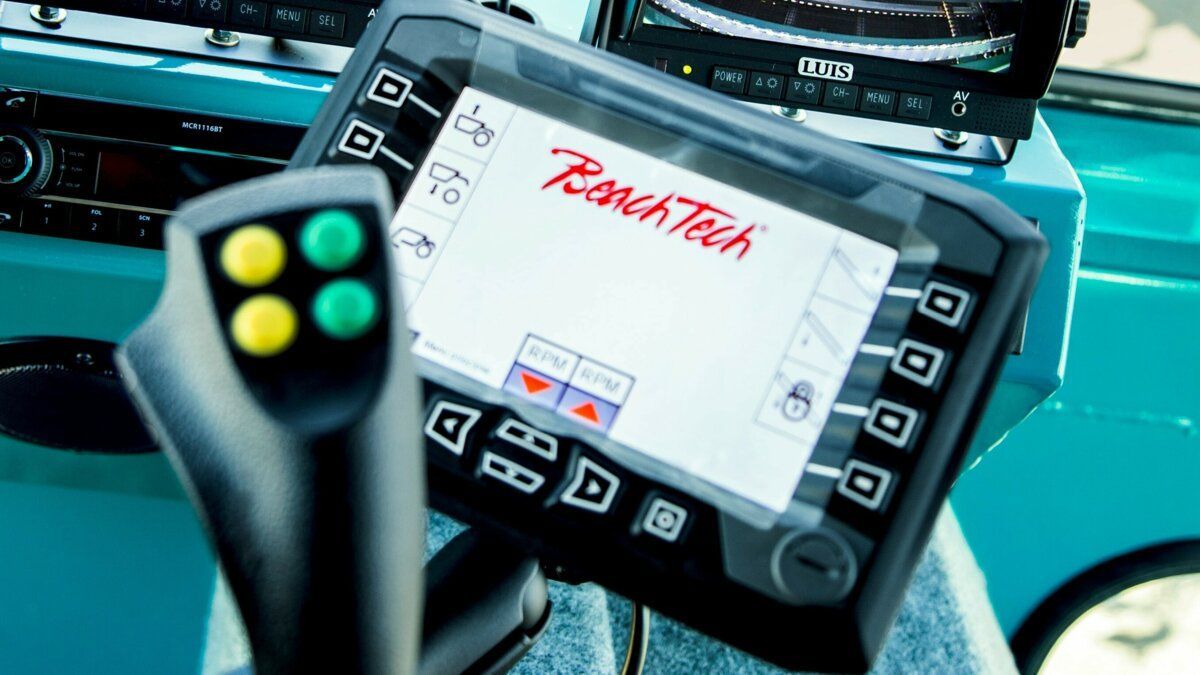 Central control and monitoring of all vehicle functions, e.g.:
- Setting the working depth of the pickup blade
- Opening / closing of the collection hopper
- Monitoring of vehicle functions (oil level, temperature)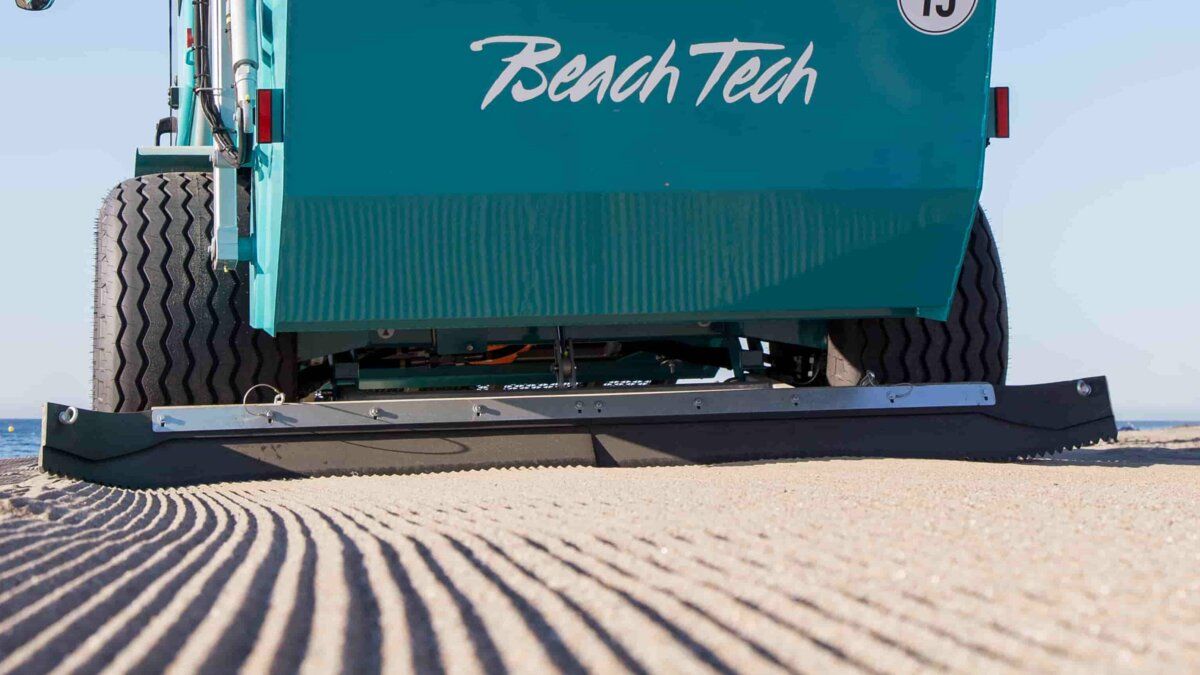 The finisher leaves the a visually pleasing groove pattern in the cleaned sand.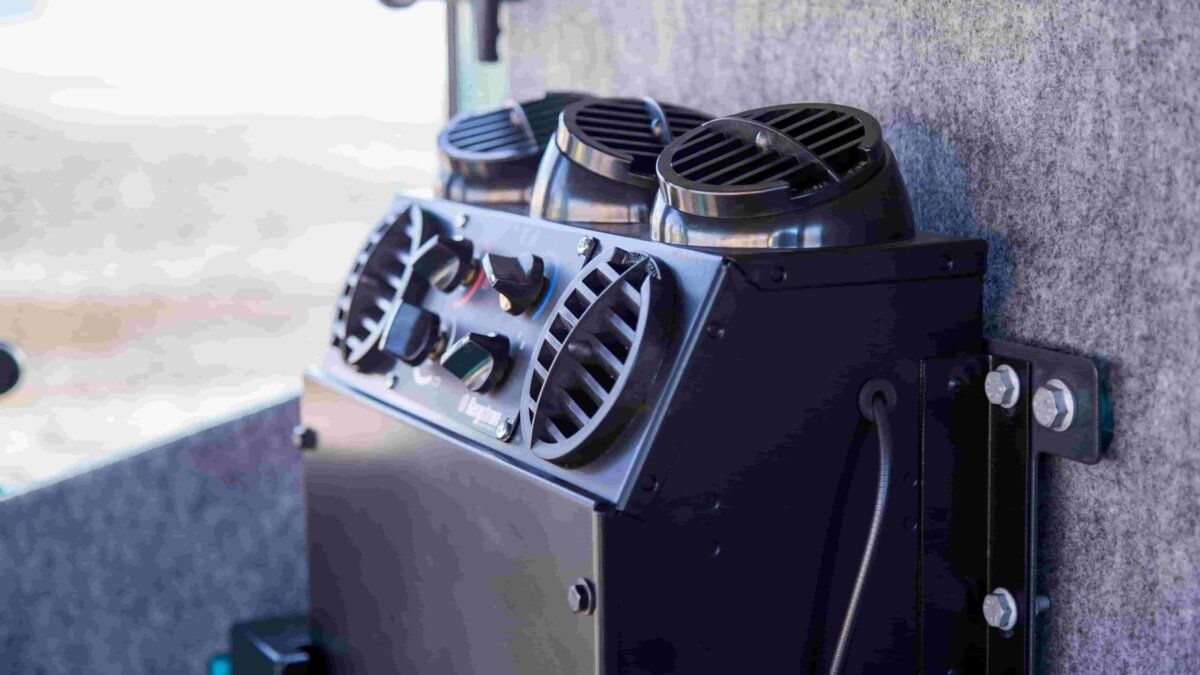 For comfortable work, even at high temperatures.
The BeachTech 5500 leaves nothing to be desired! All features, such as air conditioning, camera system, digital operating and control panel and the galvanized sieve bed, are on board this beach cleaner as standard.
REQUEST A FREE QUOTE NOW!
Get more information or a quote for the BeachTech 5500 self-propelled beach cleaner! Please fill out the form and your local distributor will contact you. Alternatively, you can contact your representative directly. We look forward to hearing from you!