BeachTech Marina
Multifunctional beach cleaner
Small turning circle
Thanks to articulated steering and switchable rear-wheel steering, BeachTech Marina gets around any obstacle with ease.
Flexible
application
possibilities
The extensive range of accessories for BeachTech Marina turns the beach cleaner into an economical multifunctional tool.
The beach cleaner meets all the criteria for road approval and can therefore easily be used for several beaches ("beach hopping").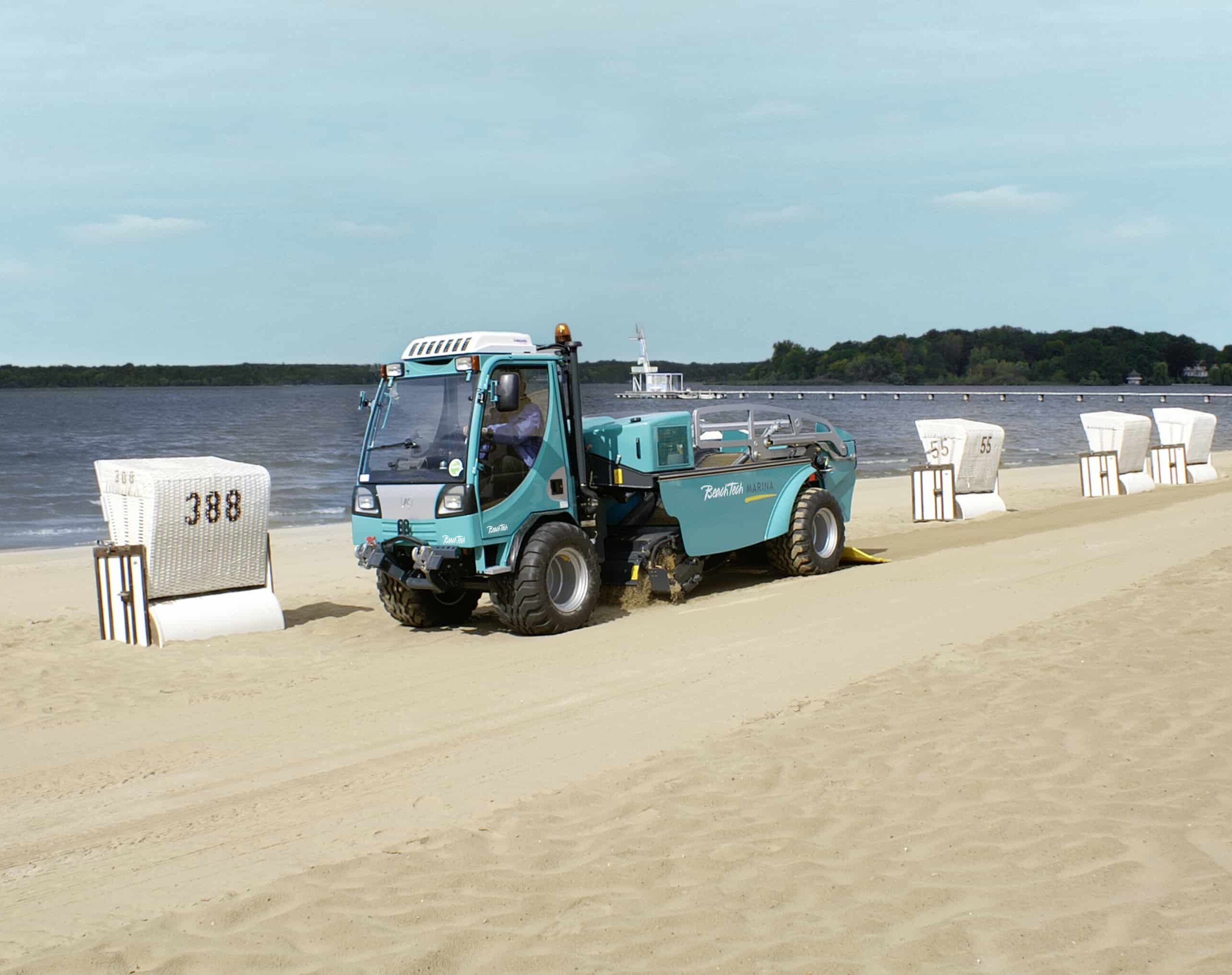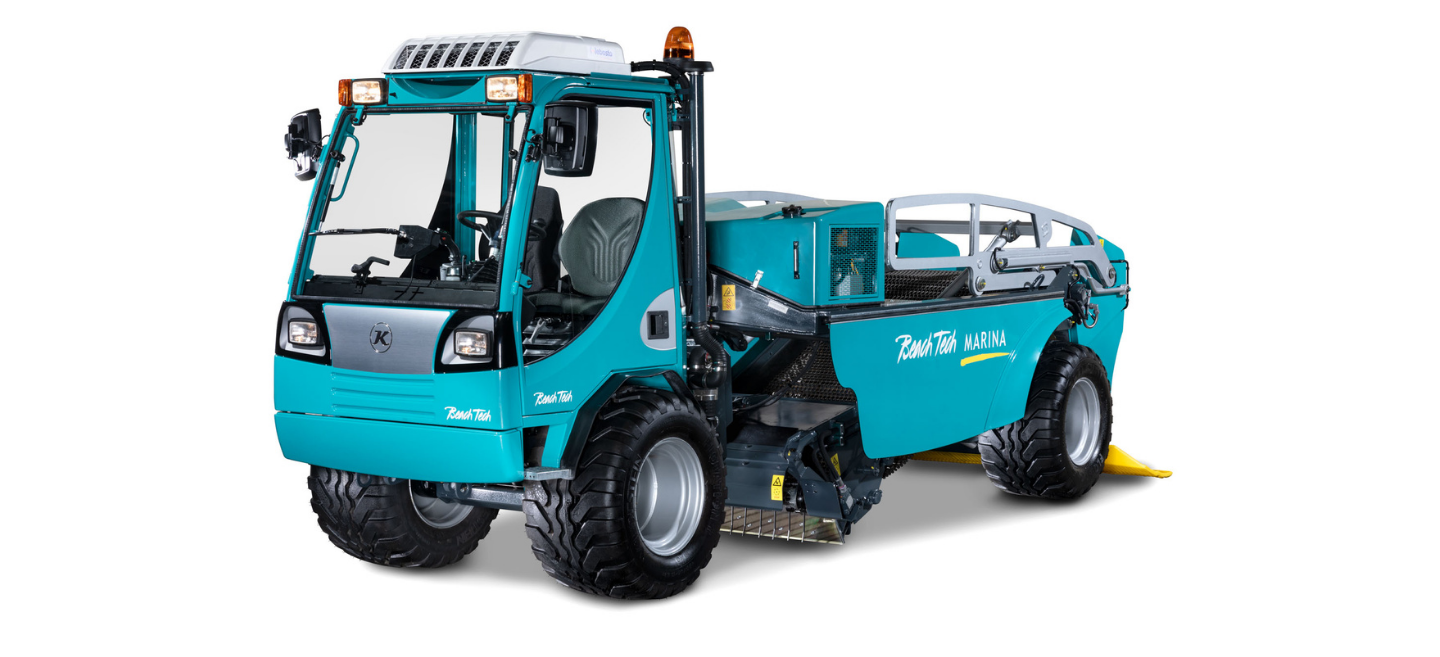 Optional: Air Conditioning
Area coverage
The beach cleaner has a working width of 1.40 m for an area output of up to 15,000 m²/h.

The optionally available air conditioning system provides refreshment on hot days and thus offers even more comfort when working.
Safety Features
The self-propelled beach cleaner is equipped with many safety features (acoustic warning alarms in the event of incorrect operations, backup alarm, electrically operated exterior mirrors for optimum visibility, warning beacons and seatbelt.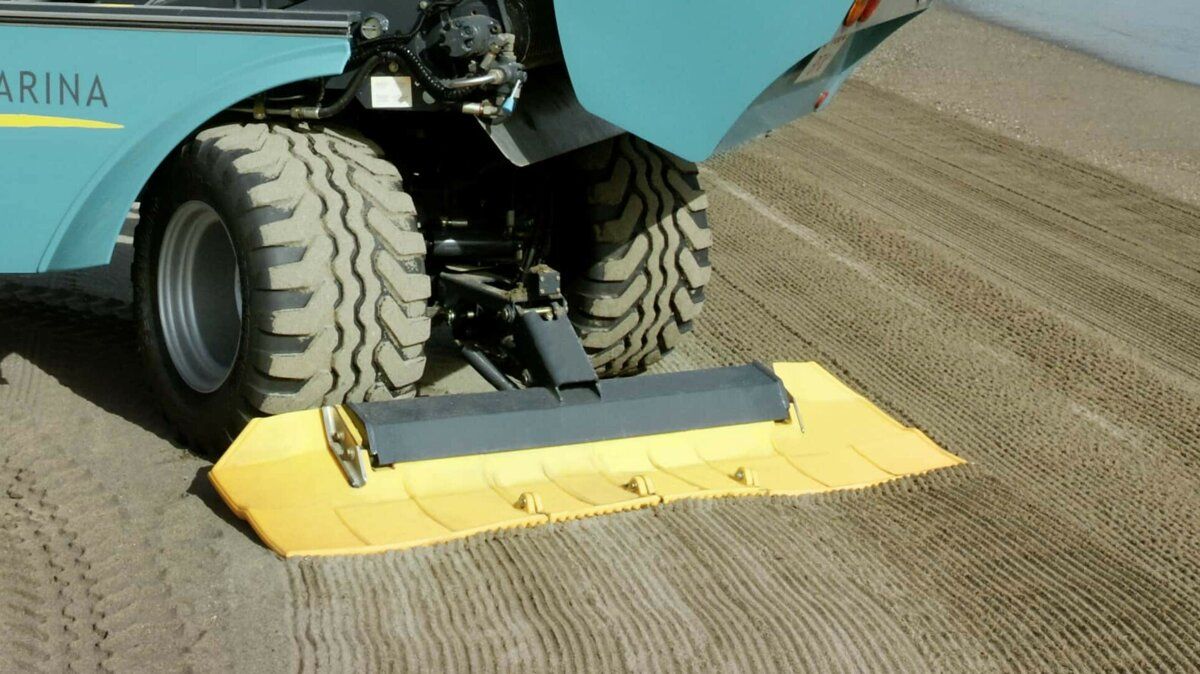 High Flotation tires for high payloads at low air pressure. The special tires provide the beach cleaner with the best possible traction on soft surfaces.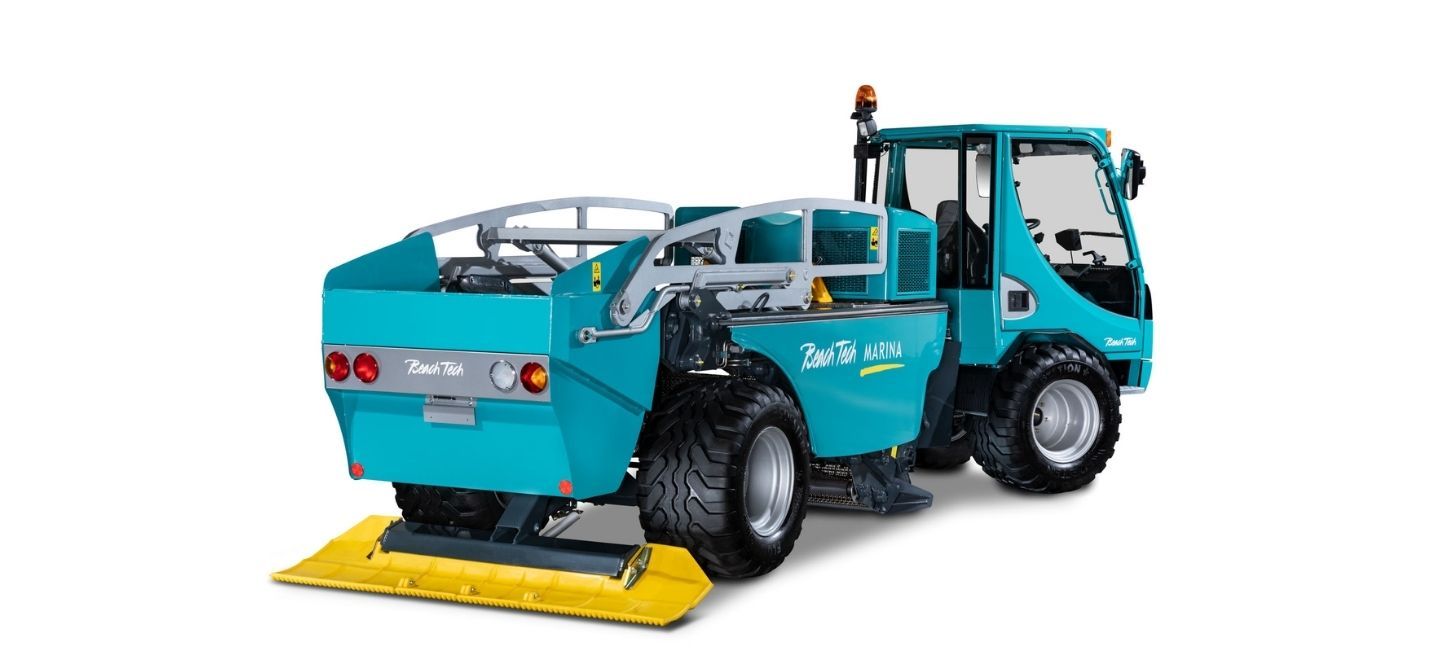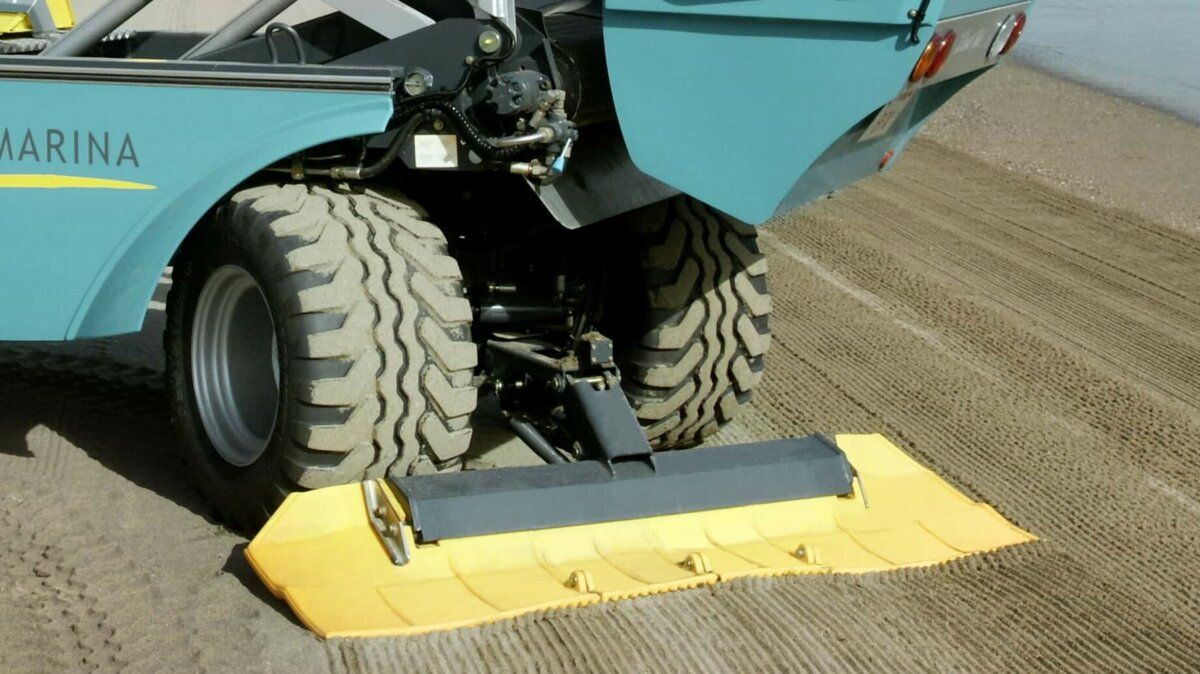 The hydraulically adjustable self-steering finisher ensures a perfect beach appearance with the groove pattern – the signature of a cleaned and inviting beach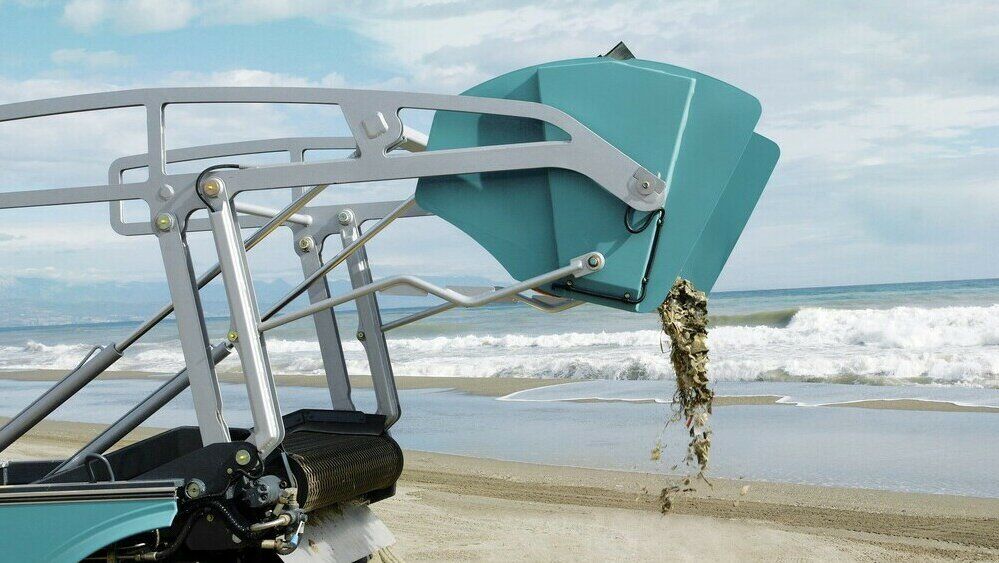 The collection hopper has a loading volume of 0.5 m³ and can be dumped at a height of 1.63 m.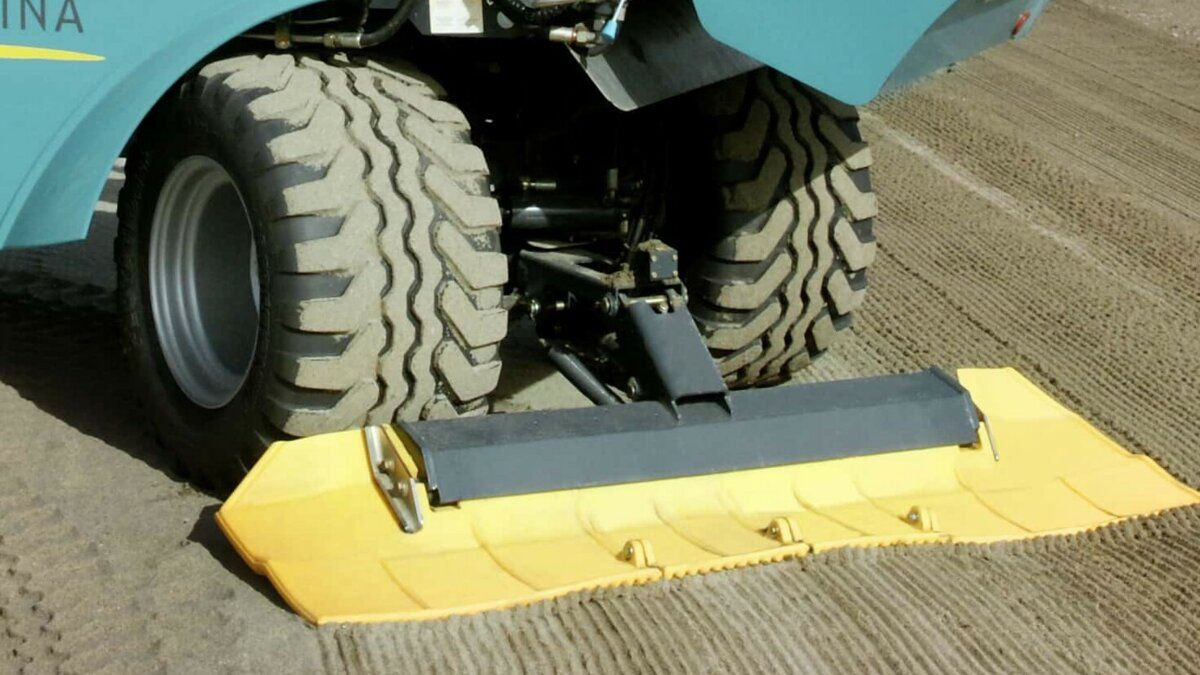 Thanks to the switchable, active rear-wheel steering and the articulated steering at the front, the turning radius of the BeachTech Marina is reduced to an inside radius of 1.70 m when cleaning. This means that even beach furniture can be closely circled.
Cockpit
The ergonomically designed cockpit and joystick make operation easy. Large electric mirrors allow excellent all-round visibility. The comfortable, two-seater operator's cab is available with a folding roof hatch or air conditioning.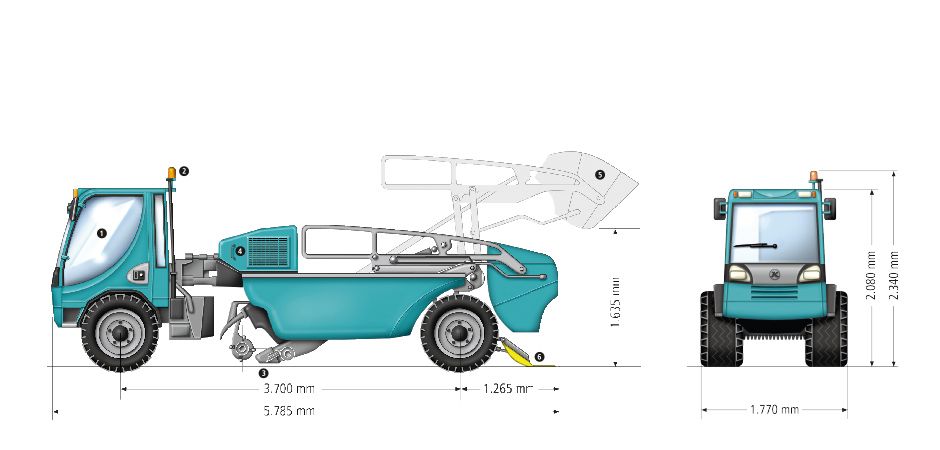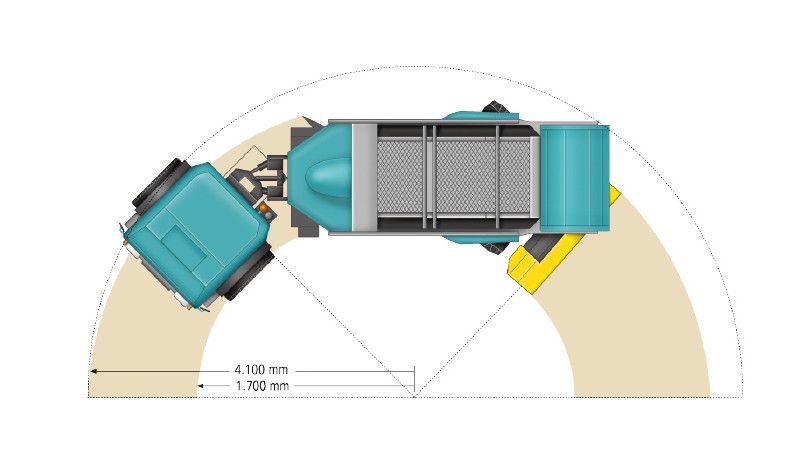 Technical Data
Dimensions
Overall length
5,785 mm
Width
1,770 mm
Height
2,340 mm
Working width
1,400 mm
Weight
Net weight
2,775 kg
Payload
725 kg
Gross weight limit
3,500 kg
Performance
Max. area coverage
15,000 m²/h
Working depth up to
30 cm
Road legal
yes
Capacity collection hopper
0.5 m³
Unloadng height
1,635 mm
Max. working speed (depending on soil conditions)
12 km/h
Engine
Type
Kubota, Turbodiesel
No. of cylinders
4
Power
33,0 kW (42 hp)
Torque
120 Nm @ 2,000 rpm
Displacement
1,498 cm³
Emission standard
EU stage III A; EPA Tier4 i
Dimensions
Overall length
18 ft 12 in
Width
5 ft 10 in
Height
7 ft 8 in
Working width
4 ft 7 in
Weight
Leergewicht
6,117 lbs
Payload
1,598 lbs
Gross weight limit
7,716 lbs
Performance
Max. area coverage
3.71 acres/h
Working depth up to
11 in
Road legal
possible
Fassungsvermögen Sammelbehälter
0.65 cu yd
Unloading height
5 ft 36 in
Max. working speed (depending on soil conditions)
7.5 mph
Engine
Type
Kubota, Turbodiesel
No. of cylinders
4
Power
33.0 kW (42 hp)
Torque
120 Nm @ 2,000 rpm
Displacement
0.33 gal
Emission standard
EU stage III A; EPA Tier4 i
Clean beaches thanks to sophisticated technologies
Rely on BeachTech for professional beach cleaning!
Perfectly cleaned sand
BeachTech Marina works with Rotary Screen Technology. The sand is picked up by the pickup blade with spring tines and transported to the rotating screen belt. Here, even the smallest particles of dirt, such as bottle caps, shards or cigarette butts, are screened out. Larger items, such as stones or plastic waste, are also reliably collected. The cleaned sand falls back to the ground. The different settings of the spring tines allow the operator to switch between screening, raking and mixing technology and thus to react quickly to special conditions, such as wet, heavy sand.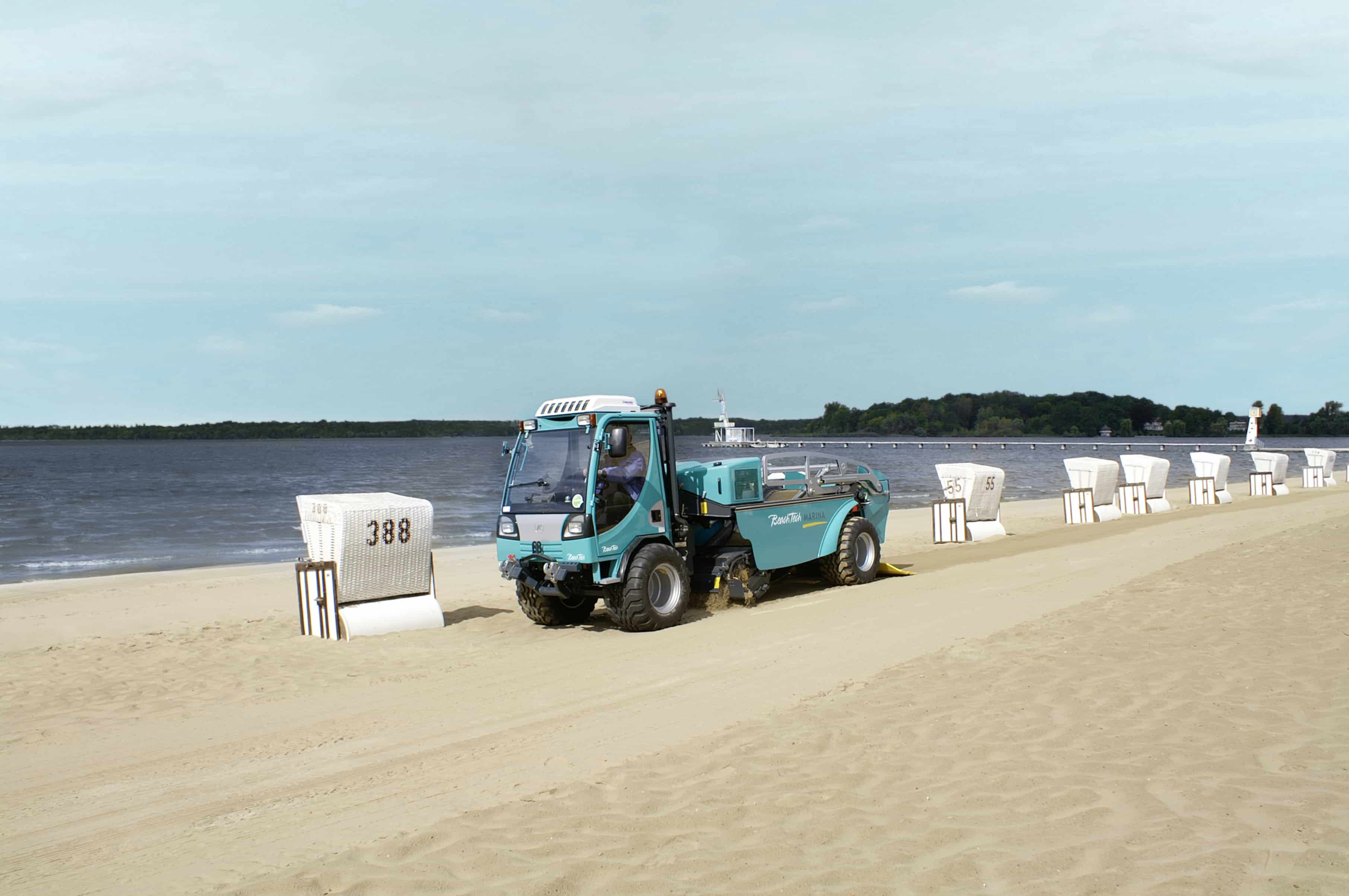 Spring tines:
Low maintenance, individually replaceable
Screen belts:
Different mesh sizes
Eccentric shafts:
Various shapes, diameters and profiles
Maintenance-free bearings:
No more need for re-greasing
Reversing valve:
Change of direction of the sieve belt possible
Air conditioning for more comfort
Camera system for better view of the pick-up shaft
Radio
Attachments incl. water sprayer system
Sprayer with 400l water tank for dust reduction in dry sand conditions
Front power lift
REQUEST A FREE QUOTE NOW!
Get more information or a quote for the BeachTech Marina multifunctional beach cleaner! Please fill out the form and your local distributor will contact you. Alternatively, you can contact your representative directly. We look forward to hearing from you!