Cleaning sand surfaces, roads and more
Der little allrounder: BeachTech Sweepy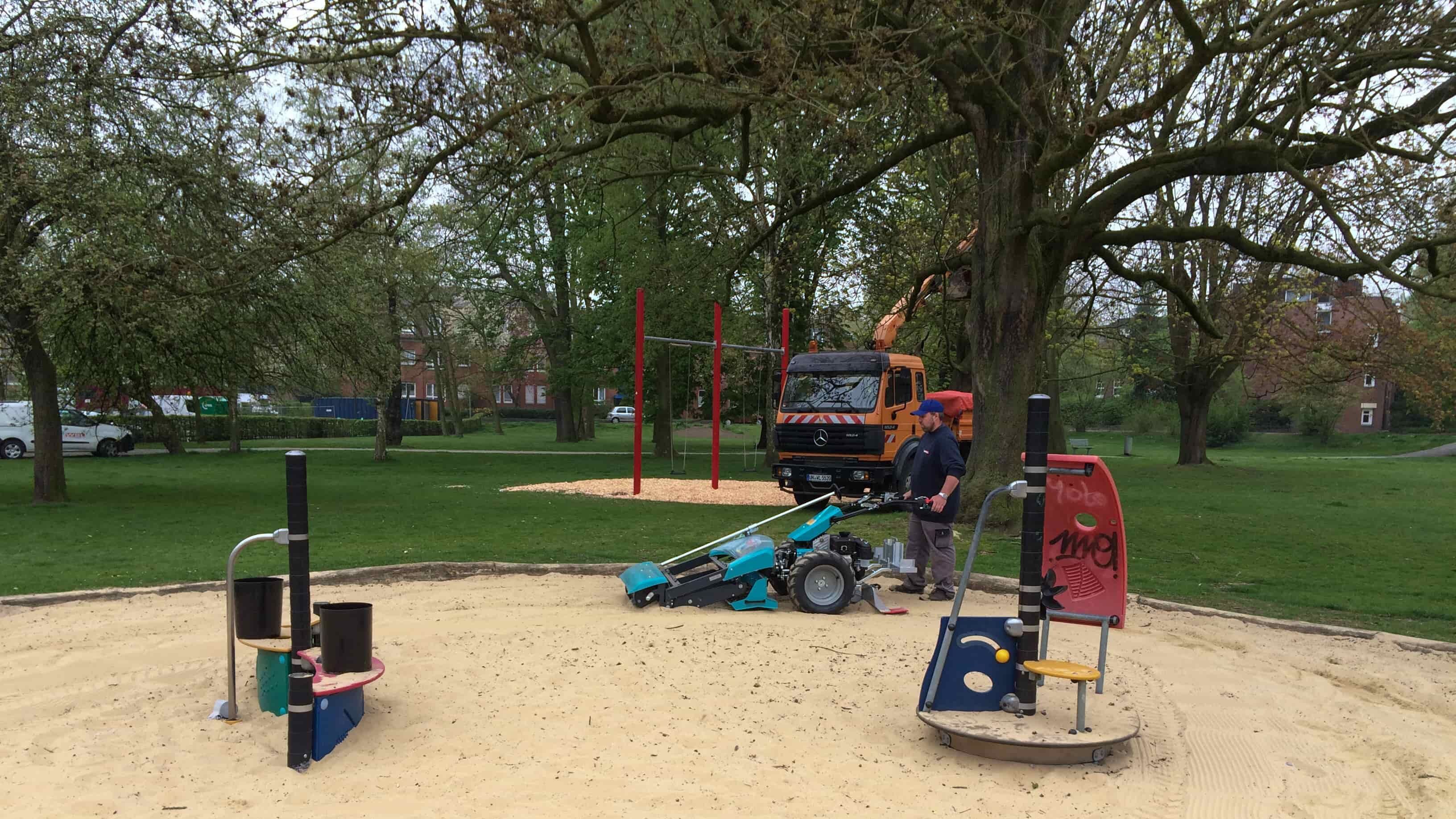 Effective and thorough sand cleaning, maximum flexibility and true multifunctionality – the walk-behind BeachTech Sweepy sand cleaner is a real jack-of-all-trades.
Mechanical beach cleaning for clean play areas and sports areas
Summer is around the corner and life is returning to play areas and beach volleyball courts. Clean sand surfaces are essential to carefree fun. Unfortunately, invisible dangers are often hidden underneath the sand surface. Broken glass, stones and other pointy objects are frequently seen only after it is too late. BeachTech beach cleaners allow for a particularly thorough cleaning.
The sand is picked up and screened through a double vibrating screen. As a result, shards, trash and stones migrate into the hopper and can be discharged easily and hygienically. The cleaned sand falls back to the ground and then is smoothed by the finisher.
Maneuverable and flexible in use
The BeachTech Sweepy cleans play areas, volleyball courts and other sand surfaces in no time. The sand cleaner is available in two versions: the BeachTech Sweepy with mechanical traction unit and the BeachTech Sweepy Hydro with hydrostatic drive. The sand cleaners offer maximum flexibility for getting around obstacles. By means of turn-around active steering, the BeachTech Sweepy Hydro rotates 180° on the spot, directly over the center point.
An economical solution for the whole year
The BeachTech Sweepy is a real multi-talent. The modular quick-change system means that in just a few easy steps you can turn the sand cleaner into a snow remover, lawn mower, leaf vacuum, street sweeper and much more. The diverse options for use in all seasons make the BeachTech Sweepy an economical and efficient solution for your company.
Learn more about the use of BeachTech Sweepy on playgrounds and volleyball courts